Science Lab Manual Class 9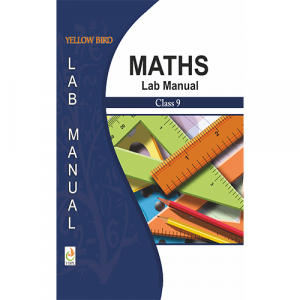 Maths Lab Manual Class 9
Map Practice Book Class 9
Yellow Bird publication Health and Physical Education Lab Manual Class 9 is a valuable tool for helping to impart knowledge of and value to physical education, especially in schools. The manual aims to cover all aspects of health and physical education to provide students with a good understanding of their health and fitness. Moreover, students looking to learn about physical education will find the Class 9 Health and Physical Education Lab Bookx`1 an essential resource. 
Yellow Bird Publications Class 9 Health and Physical Education Lab Manual
Yellow Bird Publications brings you their brand-new "Class 9 Health and Physical Education Lab Manual," specifically tailored for students enrolled in Class 9. With everything students in this grade need for successful Health and Physical Education study in one convenient package, Yellow Bird's comprehensive lab manual serves as an indispensable aid.
Key Features:
Practical Learning Made Fun: This lab manual was thoughtfully created to make practical learning a more engaging and fun experience for its users. Students will engage in various health and physical education experiments, activities, and projects while deepening their knowledge of this subject area.
Well-Structured Content: The manual follows a well-organized format for its content. This enables students to grasp complex ideas easily while being introduced to anatomy, physiology, nutrition fitness, and sports in one convenient manual.
Hands-On Activities: In order to enhance students' practical knowledge and skill development, lab manuals contain hands-on activities which encourage teamwork, critical thinking skills, problem-solving techniques as well as healthy lifestyle practices among participants. These exercises promote active lifestyle choices among pupils.
Safety Guidelines: Yellow Bird Publications places students' well-being as its top priority, offering comprehensive safety guidelines in its lab manual to help students conduct experiments and activities under the close supervision of educators in an atmosphere conducive to safe learning experiences.
Assessment Tools: The lab manual includes assessment tools to help evaluate students' progress and understanding of concepts. Regular evaluations help track growth, identify areas for improvement, and foster an active learning approach.
Modern and Attractive Layout: The laboratory manual's layout features contemporary aesthetic elements like vibrant colors and clear illustrations to engage students throughout their learning experience. This ensures they remain engaged while experiencing its benefits.
Yellow Bird Publications
Be ready for success in Physical Education class 9 Lab Manual by arming them with our lab manual! Encourage healthy lifestyle choices, build essential life skills, and foster physical fitness – Yellow Bird Publications takes great pride in offering this top-of-the-line educational resource, creating brighter futures for our young learners.
Remember, our lab manual provides your students with everything they need for a successful and engaging academic year in CBSE Class 9 Health and Physical Education Lab Practical. Get your copies today, and watch your students thrive within this exciting discipline!
Only logged in customers who have purchased this product may leave a review.