Science Lab Manual Class 10
Maths Lab Manual Class 10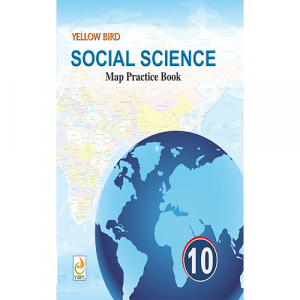 Map Practice Book Class 10
Get ready to dive deep into physical education with the Yellow Bird Publications Health & Physical Education Lab Manual  Class 10. This comprehensive manual is designed strictly according to CBSE guidelines. It features a wide range of activities that are explained in a simple, step-by-step manner with accurate diagrams and observations. Whether you're a student or teacher, the Lab Manual for Class 10 Health & Physical Education is an essential resource for anyone looking to excel in health and physical education.
Class 10 Lab Manual of Health and Physical Education include the following.
Yellow Bird Publications' comprehensive and engaging "CBSE Class 10 Lab Manual Health & Physical Education" will make an invaluable asset for schools, teachers, and students. Intended to complement Health & Physical Education classes taught to Class 10 students, this lab manual serves as an indispensable resource.
Key Features:
1. Hands-On Learning Experience for Students: Our lab manual was explicitly created to offer a hands-on learning experience to its readers, featuring various exercises and activities which promote active participation that makes the learning experience both engaging and effective.
2. Curriculum-aligned Content: Aligning with the Class 10 Health & Physical Education syllabus, this manual covers essential topics like physical fitness, nutrition, wellness and safety for students of Class 10. Students will develop more profound insight into health-related concepts through practical applications of their studies.
3. Step-by-Step Instructions: For ease and confidence when performing experiments, students can access clear step-by-step instructions in their lab manuals. CBSE Class 10 Lab Practical Health & Physical Education ensures they can easily follow along and complete experiments successfully.
4. Safety Guidelines: Safety should always come first, and our manual includes detailed safety instructions for every experiment to foster responsible, considerate behaviour during practical sessions while creating a secure learning environment.
5. Illustrations and Diagrams: Experiments usually incorporate visual aids like illustrations and diagrams that help students quickly grasp complex concepts, engaging the learning experience while strengthening theoretical knowledge taught in class. These visuals make the learning process engaging for all involved parties involved.
6. Assessment Tools: To gauge students' understanding and progress, lab manuals contain challenging questions and exercises designed to assess them as learners progress through experiments. They also include space where students can record observations or draw conclusions.
7. Holistic Approach: This lab manual is integrative to Health & Physical Education, emphasizing physical and mental well-being for maximum student growth and development. Students will develop essential life skills that contribute to overall development.
With the "Class 10 Lab Practical Health & Physical Education" guide, students can engage in hands-on learning experiences and build proficiency in practical skills for Health & Physical Education.
Yellow Bird Publications Company Details.
Yellow Bird Publications, an esteemed educational publishing house, strives to empower students and educators by offering high-quality learning resources which engage and excite them. Their passion for excellence creates an enjoyable educational journey for learners of all ages.
At Yellow Bird Publications, we understand that the power of education is vital to creating a brighter future for students and staff alike. That's why our expert team of educators, curriculum specialists, and designers work collaboratively on cutting-edge educational materials designed to meet learners' evolving needs and meet each learner where they are academically.
Moreover, practical learning plays a huge role in academic progress – that's why our lab manuals feature experiential learning activities designed to encourage hands-on experiences for maximized critical thinking development and holistic growth.
By fostering experiential learning experiences, we aim to provide learners with the tools they need for optimum growth, both academically and personally. We believe that a well-rounded educational approach is key to preparing students for success in their future endeavours.
Overall Yellow Bird Publications mission is to be the trusted companion for every learner, providing educational materials that foster curiosity, encourage creativity, and promote enthusiasm for learning. When you choose Yellow Bird Publications as your partner in education, you are selecting someone dedicated to shaping young minds into confident, well-informed adults who value life-long learning and self-improvement.
Discover Yellow Bird Publication's difference, and embark on an unparalleled educational adventure!
Only logged in customers who have purchased this product may leave a review.